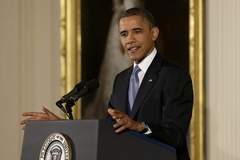 A Melbourne man is being held in federal custody on accusations he made threats on his Facebook page to kill President Barack Obama.
Court documents say Christopher Castillo, 28, made similar threats when U.S. Secret Service agents and Brevard County investigators questioned him just two days after Obama was re-elected. Castillo's father told FLORIDA TODAY there was nothing behind the alleged threats.
The case started Nov. 1, when a "concerned citizen" called the U.S. Secret Service in Atlanta. According to one agent's affidavit, Christopher Castillo had threatened to "hunt down" and kill Obama if the president was re-elected and "watch the life disappear from his eyes" in a post on the social media website.
The tipster replied to the Facebook post, warning that the threat was a federal offense, and Castillo allegedly replied: "I wouldn't call it a threat but more of a promise, let them come after me..."
When officials went to Christopher Castillo's home Nov. 8, Castillo said "he made the comments out of severe anger towards [sic] the President for his views on health care and said 'we're all going to be screwed,' " the affidavit reads.
Christopher Castillo made further threats to the president in the interview with investigators, calling the president a terrorist and threatening to beat him up, according to court documents. When investigators told Castillo his statements violated federal law, he replied "it did not matter," according to the affidavit.
Frank Castillo, a U.S. Army veteran, said his son served in the Air Force, is married and has three young children. He said his son loves this country and is not a violent person. He acknowledged his son may have made anti-Obama posts, but said his son had no means to carry anything out...
(click pic to continue reading)