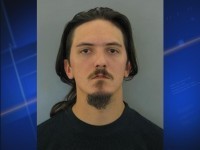 PORT CHARLOTTE, Fla.- The Charlotte County Sheriff's Office Narcotics Unit conducted a reverse drug transaction on Thursday November 8 that resulted in the arrest of 25-year-old Port Charlotte man on charges of Attempting to Purchase a Controlled Substance (Oxycodone) and Public Assistance Fraud.
The Narcotics Unit received an anonymous tip advising that someone in the Port Charlotte was advertising on the Craig's List Internet site as "Looking for Roxy". Detectives searched the site and located the ad which was listed just as the tipster said. Detectives began an Internet investigation which involved communicating with the person in the ad. The person wanted to get Oxycodone pills in exchange for a "Food Stamp" card worth $100. Arrangements were made to meet the person on Thursday at an address on Forrest Nelson Blvd. in Port Charlotte.
An undercover detective met with Jesse Thomas Wilkes, 25, 1204 Sandy St, Port Charlotte, and provided two placebo/imitation Oxycodone pills which had the same markings and appearance as real pills. Wilkes gave the undercover detective a Food Stamp card and the PIN number for it...
(click pic to continue reading)