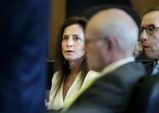 WEST PALM BEACH — While questioning the wisdom of state law, Palm Beach County Circuit Judge Glenn Kelley Friday ruled that it does not allow someone to vote in person if their absentee ballot has been rejected.
In a roughly 90-minute hearing, her attorneys urged Kelley to order Supervisor of Elections Susan Bucher to let Reis vote in person in Tuesday's presidential election because her absentee ballot was rejected after the canvassing board said the signature on it didn't match the one on file at the elections office.
"The statutes at issue do not provide a right to vote by alternative means if an absentee ballot is deemed illegal," Kelley wrote. "Perhaps they should, but they do not."

He acknowledged that he understood the grave consequences of stripping Reis of her right to vote.

"A citizen's right to vote is a precious right which should be preserved whenever possible. Equity would certainly dictate another result," he wrote. "However, this court is not permitted to ignore valid laws passed by the legislature or to rewrite those laws."
Kelly's decision came as no surprise. During the hearing, he said he was sympathetic to but not swayed by Reis' plight. "Logic, common sense, equity, the American way — they're all on your side," Kelley said. "But when I read the statutes I'm not convinced logic, common sense and the law reside in the same house..."
(click pic to continue reading)