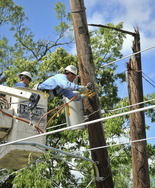 HUNTSVILLE, Alabama - Representatives with Huntsville Utilities and Joe Wheeler Cooperative, two area utilities mentioned in media reports claiming their crews were not allowed to help with storm aid in New Jersey because they were non-union, said this morning the story is untrue.
Decatur Mayor Don Stanford said this morning he was unaware of the story and had no comment.
"That's a rumor," he said. "We are starting work this morning with Long Island Power Authority. We were headed to a New Jersey utility but they had all the crews they could handle."
A spokeswoman for Joe Wheeler Electrical Membership Cooperative said the crews from Trinity also are assisting with storm recovery and, in fact, are unionized...
(click pic to continue reading)