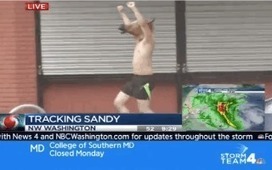 When you think "hurricane," you think wind, rain, the awe-inspiring power of nature, the comparative smallness and fragility of human beings, and shirtless men running around wearing horse masks.
I'm not sure where this man came from or what his goal was, but my guesses are "heaven" and "to make every NBC morning news viewer fall madly in love."
Today, we are all Shirtless Horse Mask Man.
Marvel at the beauty, via a local NBC affiliate in DC...
(click pic to watch video)