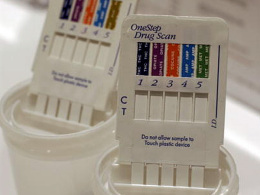 FORT LAUDERDALE (CBSMiami) – Drug toxicology tests taken by the former Broward Medical Examiner are now under fire and it may lead to new trials for defendants involved in DUI cases involved alleged drug use.
According to the Sun Sentinel, Broward's new Medical Examiner Craig Mallack discovered under the former ME, the office didn't follow proper scientific procedures to validate thousands of drug toxicology tests prior to August 24, 2012.
The Broward Association of Criminal Defense Lawyers President Kenneth Hassett said while the results might not be wrong, defendants might deserve a new trial. He said this is like opening up a huge Pandora's Box, since the ME's office uses the same protocol for testing victims.
The improper procedure was performed when testing for, among dozens of other drugs, cocaine, heroin, oxycodone, hydrocodone, marijuana, amphetamines, Valium, Xanax, sleeping pills and other over-the-counter medications that affect a user's ability to drive. Not on the list; alcohol or PCP, commonly known as Angel Dust. Procedures to test for those substances were conducted properly, he said...
(click pic to continue reading)