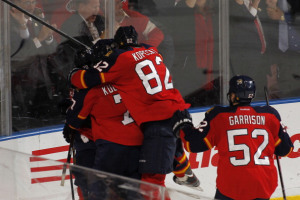 Via CBS Miami:
As the NHL owners and the NHL Players Association continue to battle over how to split up their money, the amount of money available to the league continues to shrink.
Overall, the lockout is 25 days old, but the entire preseason schedule plus the first two weeks of the regular season, a total of 82 games, have already been canceled. In fiscal terms, that means the league has lost more than $200 million in 2012 thanks to the lockout.
"So you're talking about 230,240 [million] to this point that's in jeopardy," NHL Deputy Commissioner Bill Daly told the O.C. Register. "That's 240 that we both lose. It's not just the league that's losing that money. The players are sharing on some basis in that. Some substantial basis. Whether that's 57 percent or whether that's 50 percent or whether that's 47 percent, it's some basis and it's a significant basis..."
(click pic to continue reading)