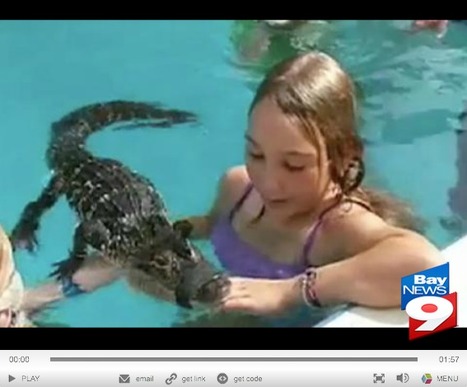 MADEIRA BEACH — Invitations to the birthday pool party for 8-year-old Marshall Jones announced two special guests.
Friends and parents jumped into the water to photograph and swim with the pair, Cupcake and Burger, two gators from the Alligator Attraction in John's Pass.
Investigators at the Florida Fish and Wildlife Conservation Commission think "gator parties" are unsafe for kids and parents.
They have told Alligator Attraction, the Madeira Beach facility that houses 50 gators, a tortoise and koi fish, that alligators no longer will be allowed to swim freely in residential swimming pools.
The wildlife commission's decision came weeks after the "gator parties'' were featured in local media outlets, Good Morning America and the New York Daily News. For $175, workers at the Madeira Beach facility take alligators under 4 feet long to pool parties in Tampa Bay area and allow guests to hold and photograph them.
Then the phones started ringing. At least 10 complaints were filed with the wildlife commission...
(click pic to watch video)