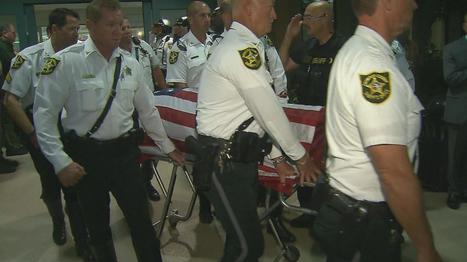 POMPANO BEACH, Fla. - A Broward Sheriff's Office motorcycle deputy has died after a crash in Pompano Beach Wednesday.
Christopher Schaub, 47, was a 22-year veteran of BSO who worked in the Pompano Beach district.
Schaub's body, draped by an American flag, was ceremoniously taken from Broward Health Medical Center Wednesday night as hundreds of officers looked on.
"His heart gave out six times. And he was brought back to life, and kept struggling, struggling, struggling to the point he couldn't struggle any more," said Broward Sheriff Al Lamberti.
Schaub leaves behind a son, who is also a BSO deputy, and a daughter.
A woman driving a Mercedes involved in the accident was transported to Broward Health North. Her injuries were not as serious, said police.
It's unclear what led up to the accident, which is under investigation. Witnesses told Local 10 they heard the motorcycle pull out of the intersection and then heard a loud bang...
(click pic to watch video)