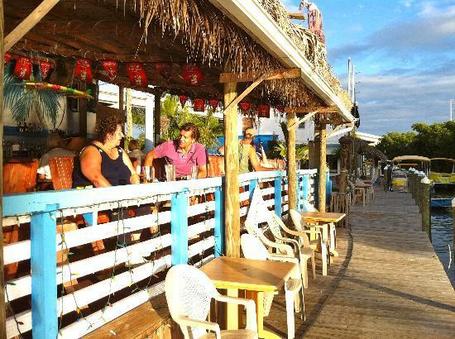 A chef at a Key Largo restaurant fatally stabbed himself in front of his colleagues during dinner business hours Tuesday.
Monroe County Sheriff's Office investigators say Stephan Stolze, 46, picked up a large knife from the kitchen of Steamer's Restaurant at mile marker 107 and walked out into the seating area with the knife held to the right side of his neck. His colleague, Don Barton, told police that he followed Stolze and found blood on the floor and on a table.
No customers were in the restaurant at the time, according to a Sheriff's Office report.
Barton said he did not know how severely Stolze was wounded, so he began to mop up the blood so incoming customers would not see it.
A bartender, Veronica Dunn, saw Stolze run to his apartment, which is upstairs from the restaurant. Barton called restaurant manager Robin Schaupp, who was at a meeting at Gilbert's Marina next to Steamer's. Schaupp entered the apartment and followed a blood trail that led him to Stolze's balcony. Stolze was lying face down unresponsive.
Stolze's co-workers said he was depressed after breaking up with his girlfriend. He had recently begun acting strangely, they told police. Karina Schaupp also told investigators that Stolze wanted to return to his home country of Germany after the breakup...
(click pic to continue reading)