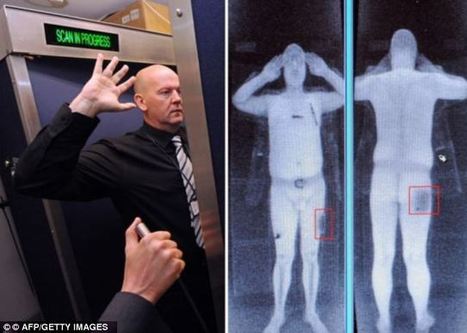 Via Daily Mail:
The last remaining full-body X-ray airport scanners are to be scrapped within weeks.

The security systems, which have been tested at air terminals since 2009, scan through passengers' clothes, creating a detailed ghost-like image of the naked body. The scan is then viewed by security staff.
Critics said the machines invaded passengers' privacy and the radiation they generate raised the risk of cancer. Some Muslim groups also refused to walk through them on religious grounds.
The European Commission ruled that the cancer risk was 'close to zero' but, under Brussels legislation, the three-year trial period has elapsed and it has decided not to 'prioritise' them for permanent use across the continent.

Airport bosses who were waiting for the green light on the machines now say they have been left with no option but to remove them.
The scanners will be replaced with 'privacy-friendly' machines which use radio-frequency technology.
The report from the EC's Committee in May said radiation doses were 'very low' compared with other sources such as cosmic radiation received during flights.

But it did add that the long-term effects, such as cancer risks, could not be 'entirely excluded'.

American academic Dr David Brenner said he believed the scanner could deliver up to 20 times more radiation to the skin than previously thought - potentially increasing the risk of skin cancer.

Fears were also raised that the scanners were an invasion of privacy and some passengers and religious groups had questioned their use...
(click pic to continue reading)