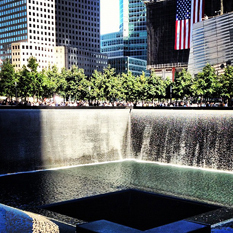 Via The New Yorker:
On this, the eleventh anniversary of the 9/11 attacks, there is a general consensus that "we" are winning the so-called war on terror. In Charlotte last week, President Obama declared, "A new tower rises above the New York skyline, Al Qaeda is on the path to defeat, and Osama bin Laden is dead." That's true, of course, and it's right and fitting to remember the victims of 9/11, and pay tribute to the troops who've fought in places like Helmand Province.
But what sort of victory does it constitute? The primary aim of terrorists is to inspire terror. Bin Laden, Khalid Sheikh Mohammed, and other Al Qaeda leaders aspired to force the U.S. military out of Saudi Arabia and other Arab lands, but they knew this was unlikely. Their immediate goal was to strike back at the Great Satan, creating lasting panic, trepidation, and dread inside the United States. They wanted to shock Americans into realizing that the actions their government took overseas would have consequences, potentially very bad consequences, at home. More than a decade on, can we say that the 9/11 terrorists haven't achieved these things?
After fighting two unpopular wars in ten years, the United States is so cowed that it is slinking out of Afghanistan, the task it set itself patently unfinished, while it refuses even to consider intervening in Syria, where a military dictator is bombing his own people. About the only military intervention Washington will countenance these days is bombing suspected enemies, the occasional one an American citizen, with unmanned drones—an activity that largely takes place beyond the purview of Congress and the media.
In libertarian and interventionist circles, this state of affairs is widely discussed and lamented. But what of the situation here at home, where the actions of nineteen men armed only with box cutters has transformed the United States into a country consumed to the point of obsession with security? Air travellers have become compulsory participants in peep shows, with high-tech magnetometers and X-ray machines conducting virtual strip searches. Metropolitan police departments have been converted into paramilitary forces armed with assault rifles, armored personnel carriers, and even, in the case of New York, anti-aircraft guns. Peaceful protesting has turned into a potentially dangerous pursuit, given the aggressive policing that it attracts. And many major events now take place behind security cordons so elaborate they are almost laughable...
(click pic to continue reading)