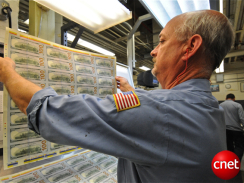 Via CBS News:
(MoneyWatch) ANALYSIS House Speaker John Boehner released a statement noting that the national debt has crossed the $16 trillion threshold, and that it has increased by $5 trillion since Obama took office. "This debt," he says, "is a drain on our economy."
Speaker Boehner is making two claims. First, that the debt is the result of Obama's policies, and second that the debt is harming the economy. On the first charge, it's true that Obama's policies have added to the debt, but they have only contributed around $1.44 trillion -- about half of that in the form of the stimulus package. The tax cuts, wars, and other policies enacted before Obama took office, by contrast, opened up a $5.07 billion hole in the budget -- over three times as much. So if there is blame to be apportioned, a good share of it must go to President Bush, as this chart illustrates.
But how could it be that Obama's policies only contributed $1.44 trillion to the debt when it has risen around $5 trillion since he took office? The answer is the recession. During a recession tax revenue falls as income falls, and spending on existing social services such as unemployment compensation and food stamps increases. The result is a larger deficit. However, Obama didn't cause the recession -- it was already well underway when he took office -- and he cannot be blamed for the debt we've accumulated as a result of the downturn...
(click pic to continue reading)