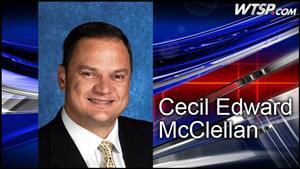 Via WTSP: Polk County, Florida -- Polk County detectives say a high school principal was among 89 people arrested in a prostitution bust this week.
Kathleen High School principal Cecil McClellan Jr. allegedly solicited a female undercover officer to meet him for sex on Thursday. Deputies say McClellan also spoke with two other female undercover detectives regarding a sex-for-money exchange.
After finalizing arrangements, McClellan arrived at the hotel wearing a Kathleen High School football shirt. That is where officials say he agreed to pay the undercover detective money in exchange for sex.
Upon McClellan's arrest, Polk County Schools Superintendent Dr. Sherrie B. Nickell released the following statement:
"We are extremely disappointed in this news. However, our number one focus will continue to be on providing our students with a quality education and providing our school faculty with the support they need. Kathleen High School is an award-winning school and I expect no less in the future..."
(click pic to continue reading)