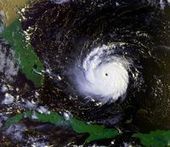 Via Miami New Times:
Twenty years ago today, Hurricane Andrew made landfall at Elliott Key as a Category Five monster before tearing west through Miami-Dade and leaving $26.5 billion in damage in its wake. In 1992, Miamians didn't have cell phones to point out their rattling windows to capture the horror firsthand -- but that doesn't mean there aren't some jaw-dropping videos of the hurricane on YouTube.
Click pic to watch all the videos...