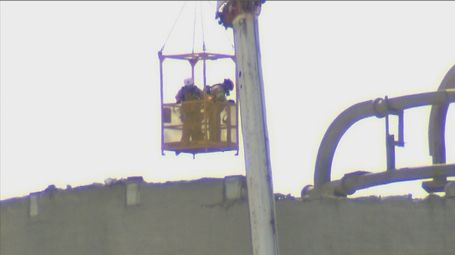 Via Local 10:
MEDLEY, Fla. -The search for a worker who fell into a silo after its roof collapsed at a concrete plant in N.W. Miami-Dade County Friday morning is now a recovery operation.
They cancelled the rescue operation at 5 p.m. and are now into full recovery.
According to Miami-Dade Fire Rescue, they received a call at 8:30 a.m. that the roof of the silo had collapsed at the plant, located at 11955 Northwest 102nd Road.
The roof of the massive concrete silo suddenly gave way as a worker was inspecting it. That man was not heard from again.
"The size of the silo is approximately 200 feet high. It was 20 percent full, which estimates the man's fall along with the concrete debris at 140 feet," said MDFR Lt. Arnold Piedrahita

At this point they don't know what caused the roof to collapse but rescue crews brought in a tall crane and then lowered two firemen down into the silo inside a bucket...
(click pic for additional images of silo)