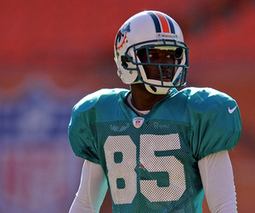 Aug 11, 2012 - Chad Johnson's late-career image rehabilitation has been one of Dancing With the Stars appearances, random kindnesses and humanizing gestures on Twitter. His name change from Ochocinco back to his given name, Johnson, was reportedly due to the wishes of his then-fiancee. Johnson being arrested for domestic violence, as the South Florida Sun-Sentinel's Izzy Gould reports he was, would certainly undo all of that and then some.

Miami Dolphins wide receiver Chad Johnson was arrested Saturday night for domestic violence, according to Davie Police Department captain Dale Engle.

The arrest report indicates that Johnson's wife, Evelyn Lozada, was the victim in the case, and that police found lacerations on her forehead at the scene of the crime. Johnson allegedly headbutted her, and the incident occurred in a vehicle, the Sun-Sentinel reports.