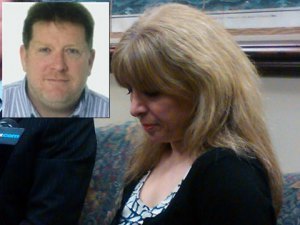 CARLE PLACE, N.Y. (CBSNewYork) – Raymond Roth of Massapequa was reported missing on July 28 by his 22-year-old son, Jonathan Roth, who told police his 47-year-old dad went for a swim at Jones Beach off of Long Island beyond the lifeguard zone and never came back.
Roth's disappearance triggered an intense Coast Guard search and while no one actually saw Roth swim away, the Massapequa man was presumed drowned.
Evana Roth said she was distraught about her husband until last Wednesday, when she discovered emails between her husband and son indicating that Roth was in Florida.
The emails allegedly detailed plans for Roth to fake his own death and disappear and included instructions to their son on what to do about money and the house.
Thursday morning, Roth was pulled over for speeding in South Carolina. The officer who issued the ticket discovered Roth was listed in a national registry of missing people. Roth said he was driving back to New York and the officer let him go.
Evanna Roth said her husband emptied out her bank accounts. She is now seeking an order of protection against her husband...