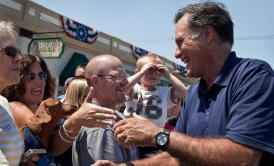 Via Slate:
Mitt Romney is insisting that there is "nothing hidden" in his tax returns, a comment that comes as he faces increasing criticism from Team Obama to release additional info about his financial records.
The presumptive GOP nominee told an Iowa radio host that his investments are in a blind trust and above board. "I don't manage them," he said in an interview that aired Tuesday. "I don't even know where they are. That trustee follows all U.S. laws. All the taxes are paid, as appropriate. All of them have been reported to the government. There's nothing hidden there."
To date, Romney has released a tax estimate for 2011 and his 2010 tax returns. His substantial wealth has long been a talking point among his critics, but in recent days Democrats have increasingly attempted to highlight it as they try paint him as a protector of the rich...