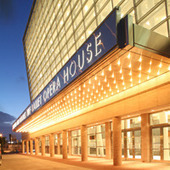 Via Miami New Times:
Repairs to the Adrienne Arsht Center for the Performing Arts necessitated by a busted water pipe will cost Miami-Dade County at least $2.7 million, according to a recent memo from Mayor Carlos Gimenez. While some of the costs are covered by an insurance policy, the county is on the hook for coming up with the rest of the money.
The repairs are needed after a torrential downpour this past May 20 caused a storm pipe in the ceiling to fail. Water cascaded throughout the Ziff Ballet Opera House during a performance of The Lion King and forced theater goers to evacuate the premises.
Those quick fixes, along with the inspections to reopen, cost an estimated $1.3 million, Gimenez says. He added that it will require at least another $1.4 million to demolish damaged areas. His administration is waiting on estimates for the reconstruction costs...