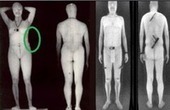 Via Miami New Times:
The hidden camera rolls inside Fort Lauderdale-Hollywood International Airport as a spiky-haired young man calmly slips a metal box into a secret pocket sewn into his dress shirt. He strolls through the Transportation Security Administration's high-tech body scanner, grabs the camera off the conveyor belt, and -- voila! -- takes the box out of his shirt.
Did a 28-year-old from South Beach find a loophole in America's billion-dollar airport security web? So says Jonathan Corbett, who uploaded footage of his feat to YouTube last month (and has since received more than a million views). It's part of his larger war -- including a federal lawsuit -- against what he says is an inept and invasive agency...