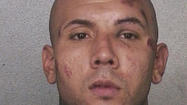 Via Sun Sentinel:
Growling man arrested outside Lauderhill strip club after spitting blood at cops...
28-year-old Juan Valderrama, who bouncers, police and paramedics attempted to restrain outside a Lauderhill strip club, growled and spit blood at them after attacking a woman, police said.
Police said Valderrama, who wound up with a cut over his eye, kept screaming "kill me" after being handcuffed. He continued yelling as Lauderhill Fire-Rescue paramedics placed him on a stretcher.
He then growled and spit blood at them, police said. Valderrama resisted for about 20 minutes and continued growling and yelling "kill me" once he arrived at University Hospital where he was evaluated...