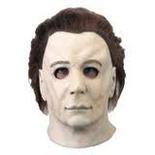 Via The Patriot-News:
Two men wearing Michael Myers "Halloween" masks held up a man and woman Thursday morning at the C-C Chinese & American Store in the 1700 block of Hanover Street in Harrisburg, police said.
One robber had a handgun, police said. The men barged into the store at about 1:30 a.m., hitting the man on the head with a handgun and forcing the man and woman to the floor, police said. The robbers took their money. cell phones and keys, police said...