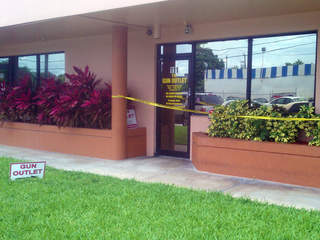 Via WPTV:
SUBURBAN WEST PALM BEACH, Fla. -- Agents of the U.S. Bureau of Alcohol, Tobacco, Firearms and Explosives (ATF) executed a search warrant at a gun shop in suburban West Palm Beach before noon Friday and arrested the store's owner.
Agents spent several hours at the Gun Outlet at 1489 Military Trail, just south of Okeechobee Boulevard.
An ATF spokesperson said shop owner David Milstead is in custody and faces firearms violations. The ATF says he is suspected of supplying guns to the illegal market...