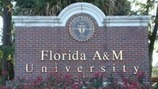 Via the Orlando Sentinel:

"A trial date was set this morning for 11 former members of the Florida A&M University marching band in the hazing death of drum major Robert Champion.

Prosecutors say Champion, 26, died Nov. 19 when he was "pummeled to death" during the ritual which occurred after the Florida Classic, the annual football game between FAMU and rival Bethune-Cookman University.

Known to some as "Crossing Over," the rite required Champion to make his way from the front of the percussion bus to the back, plowing through fellow band members who blocked his path and punched and kicked him..."