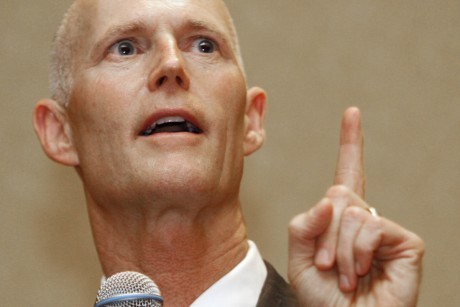 Via Palm Beach Post:
During a visit to West Boca this morning, Gov. Rick Scott accused President Obama's administration of "stalling" by not releasing a database that Scott says would help Florida weed out non-citizens from the state's voter rolls.
Scott, whose attempts to scrub voter lists have been slammed by the U.S. Department of Justice and county elections supervisors, took the offensive this morning in remarks to reporters in West Boca.
"Look the debate's over. We clearly have proof that citizens that don't have the right to vote, non-citizens, are voting in our elections. As your governor I have an obligation to enforce the law and I intend to do that. I expect the Homeland Security to stop stalling. The Obama administration is stalling about giving us this database. This is the database that we should have. I look forward to them giving us the data base so we can make sure that our elections are fair and honest and only individuals that have the right to vote are voting in our elections," Scott said...