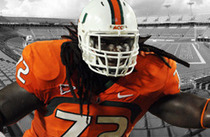 Via ProCanes.com:
"Brandon Washington was told he could be drafted as early as the second round. If not the second, surely the third. Worst case scenario, the fourth.
Washington talked it over with his family, considered his options and decided to take the plunge. He would leave the University of Miami one year early and enter the NFL draft.
You can imagine the sinking feeling in Washington's stomach as he watched the draft unfold. He was not selected in the second round. Or the third. Or the fourth. Or the fifth..."