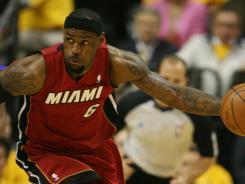 They are not just the Miami Heat now. Too many questions swirl around them. They are the Miami If, and the Miami How and the Miami Why.
If LeBron James is one of the giants of his age, isn't it time he take his talents and save South Beach? Isn't that what Jordan would do?

How does Dwyane Wade answer the criticism from an horrific and stormy Game 3 - with purpose or pique? Strike back at the Indiana Pacers, or bicker with his coach, to again furnish 30 seconds for highlight shows everywhere?...