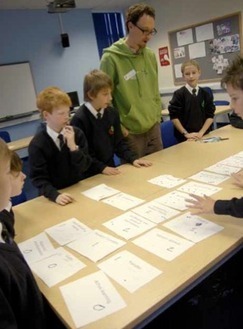 Download full report at bottom of the page.-JL
Many teachers see a value in games as a place for practising skills or revising content, but often have not yet explored the possibilities for learning through games, that is teaching content or skills through game play. This highlights a need to identify and develop pedagogical techniques that can be contained in games. The list of prioritised principles in this report suggests an approach for doing this by identifying which can be seen as:
_ teacher tools for designing and enacting games based learning experiences
_ student activities which can be undertaken in games based learning experiences
_ possible learning goals that are appropriate for games based learning experiences.

However it is noted that further work is needed to develop these into a structured toolkit.

The teachers stated that the three most important principles were: active learning, transfer and goals. These were near the bottom of the student's list. However, in the post-prioritisation discussion the students reflected that both active learning and goals should have been higher up the scale and near the top.

The students believed the most important principles were: rules, roles and rewards, which they still felt were important in the post- prioritisation discussion. This was markedly different from the teachers who placed both role and rewards near the bottom of their list.

There were some commonalities between the teachers' and students' prioritisations and the findings of the literature review. Both groups rated highly: goals, challenge, rules, and social aspects of gaming. One marked difference between the ages is around role, that is, the role that a student takes on when playing a game. The students saw this as a crucial part of the game experience which formed a context for the entire gaming activity - this resonates with the findings of the literature review. However, the teachers did not believe role was as important and for them was seen as a teaching tool to leverage participationand engagement.
Via
Nik Peachey