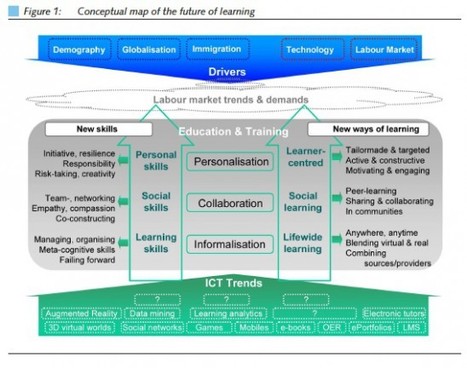 Personalisation, collaboration and informal learning will be at the core of learning in the future. The increased pace of change will bring new skills and competences to the fore, in particular generic, transversal and cross-cutting skills….
With the evolution of ICT, personalised learning and individual mentoring will become a reality and teachers/trainers will need to be trained to exploit the available resources and tools to support tailor-made learning pathways and experiences which are motivating and engaging, but also efficient, relevant and challenging…
Most importantly, traditional E&T institutions – schools and universities, vocational and adult training providers – will need to reposition themselves in the emerging learning landscape . They will need to experiment with new formats and strategies for learning and teaching to be able to offer relevant, effective and high quality learning experiences in the future.
Via
GRIAL Univ Salamanca
,
Rogério Queirós
,
DAvid Cordina
,
michel verstrepen