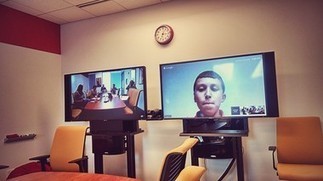 by Charlene Paparizos
"Watch out Tom Hanks, there's a new kid in town.
"His name is Jackson Quinn, but unlike Hanks' character in the classic movie, "Big," he did not have to change size to gain his dream job. The Chagrin Falls Intermediate School sixth grader, 10, simply sent an email to Jaime Casap, Global Education Evangelist for Google.
"I would love to be Google's junior consultant and I think the best way to learn about children and what they like is from a child's perspective," Jackson wrote.
"He obtained Casap's contact information this summer, through Mike Daugherty, the district's technology director. The district is rolling out the next step of its Chromebook program this fall, but Jackson has been using his Google Nexus for about six months, and loves it."
Image is of Quinn in his first Google Hangout with world tech leaders.