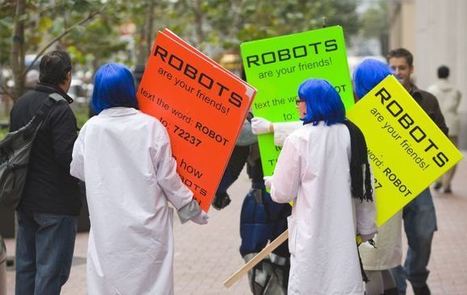 by Danny Crichton
"Quality of life is perhaps the single largest factor underpinning human happiness, and that quality is largely determined by one's job. It should be no wonder then that so many activists and politicians have made improving work a key element of their advocacy for generations. The history of America is, in many ways, the history of work.
"So when I look around the world today and observe who are the next champions of workers, I surprisingly don't see them where you would normally expect. Unions were once the bastions of progressive improvements for labor, but they have been relegated to defending the status quo and are facing serious irrelevance in the United States today. Politicians as well seem almost ignorant of the changes underway in our economy, proposing laws that do little to help people and everything to help their campaign donors."
Jim Lerman's insight:
Not so sure how I feel about this piece, but it does raise interesting arguments. Is technology the friend or foe of the working class? Were the Luddites the vanguard or the rear guard of the working class? If you don't know the history of the term, it's worth looking up. Wikipedia will do.
Technology is a seemingly irresistible force...so in many ways "Resistance is futile." On the other hand, we are not doing a fantastic job (or even a good one) of preparing the majority of our young people to flourish in the world of the present, to say nothing of the world of the future.
If memory serves, it was Henry Ford who spoke about how much he paid his workers. He wanted them to be able to afford the cars they built, arguing that to pay them less than that would lead to overproduction and the collapse of the auto market. How many people on Facebook make enough to buy a cell phone, a new computer every couple of years, a big flat-screen TV, and a car...much less a home, and afford to pay for health insurance, and send their kids to college, and, and, and.