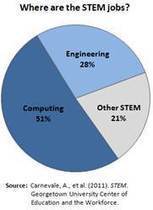 "The necessity for STEM proficiency will only increase in the coming years. As efforts to improve STEM education and increase access to these fields continue, it is important to recognize the particular sub-fields within the universe of "STEM" that deserve special attention. Computing and engineering education are two topics within STEM that have not traditionally received as much attention -- even as they have become vital engines for the economy. The situation is changing slowly but much work remains to be done.
"There are many education advocacy groups and technology companies that are leading the charge for K-12 computing education. The most significant boost for K-12 engineering education will come through the implementation of the Next Generation Science Standards. As states and school systems across the country adopt new standards and practices for teaching these fields, they can draw on partners in the afterschool field to achieve the goal of preparing our young people to access the jobs of the future.
"Afterschool programs wishing to offer computing and engineering programs have a wealth of resources to draw upon. Several high-quality curricula and programs are now available for afterschool providers. The programs highlighted in this issue brief represent models to emulate and colleagues whose expertise can be tapped. Partnerships with businesses and other STEM-rich institutions will provide needed funding, equipment, as well as the expertise to design and implement robust and rigorous learning opportunities24 . There is a great need for an "all-hands on deck" approach to prepare our students for careers in computing and engineering -- and afterschool programs are well-positioned to play a major role in this effort."