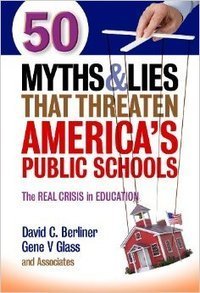 by Valerie Strauss
"A valuable new book called "50 Myths & Lies That Threaten America's Public Schools" takes a stark look at some of the worst ideas being promoted by school reformers around the country as ways to improve the public education.
The book — from which I am going to run a series of excerpts — looks at international tests, teachers, school funding, charter schools and a lot more, including sections on these myths:
International tests show that the United States has a second-rate education system.


Teachers are the most important influence in a child's education.


Merit pay is a good way to increase the performance of teachers.


Subject matter knowledge is the most important asset a teacher can possess.


American K-12 education is being dumbed down.


The money available to school districts is spread equally across their schools.


Group projects waste children's time and punish the most talented.


School uniforms improve achievement and attendance.


Schools can teach all students to the point of mastery.


Education will lift the poor out of poverty and materially enrich our entire nation.
"The book was written by educational psychologist David C. Berliner and education Professor Gene V. Glass. Berliner is professor of education emeritus at Arizona State University and former dean of the education school there, as well as a past president of the American Educational Research Association and the American Psychological Association's Division of Educational Psychology. Glass is a research professor at the University of Colorado Boulder's School of Education and a senior researcher at the National Education Policy Center. Berliner and Glass were assisted in the book project by a group of young academics from their respective universities."