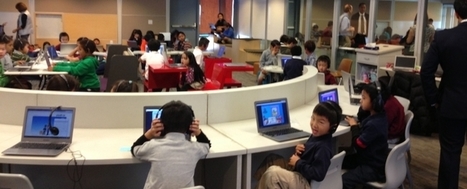 by Christina Quattrocchi
"Step inside Milpitas High School, and you will see Chromebooks on every desk, students blogging in class, and small groups testing out wind turbines to power model homes. Head down the street to Weller Elementary School, and you'll start to see similarities: Laptops are in every classroom, QR codes with secret messages are posted in the halls, and 130 students at a time rotate through a newly remodeled learning lab where they spend 30 minutes, twice a day, using adaptive digital curriculum. Education is blended. And in many cases, students are charting their learning paths.
"This isn't another Silicon Valley charter school, and it isn't an elite district in a wealthy suburb. Milpitas is a public school district at the very edge of the San Francisco Bay Area, home to 10,000 students, fully half of whom are immigrants. And yet in less than two years, this district has become a standout example of transformation in public schools, literally a stopping point when international visitors come to learn about how Silicon Valley teaches its youth. Most important: it got there thanks to the plans created by its teachers."