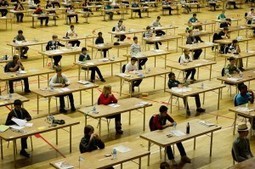 Elaine Roberts, Ph.D's insight:

No quick fix. That should be the title of this article because these educators remind us that changing something as large and diverse as education takes time. Professional development takes time. Parents, politicians, administrators, and teachers need to realize that good education takes time.




But we believe that education policy makers and mathematics educators should resist the common wish for a quick fix and stay the course, modifying goals and efforts as results suggest such actions.




I believe that education policy makers, administrators of schools and districts of all sizes and types, and ALL educators need to take a deep breath and crowd out all of the noise.



As I repeatedly tell educators: You know your kids, your teams, your parents, and your community better than anyone else. While other schools or districts may have similar problems, they're only similar problems. What works there may not work precisely the same way if at all in your classrooms. Have a vision with clear outcomes so you everyone knows what they are trying to accomplish and why. Yes, better education but, precisely, what and how knowing that the solution for your K-3 classrooms may not be the same for your middle schools, etc. Clearly define your criteria for success, and stay the course. Don't settle for less. You can do this!
Via
Elaine J Roberts, Ph.D.