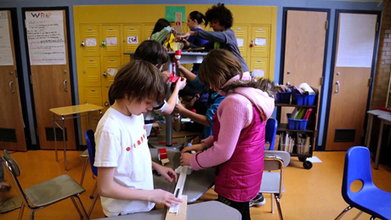 "What if instruction could actually engage students and get them excited about learning? What if school could foster student creativity and support their expanding imaginations? What if educators around the world had the tools to provide students with the 21st century skills to imagine and create their own futures in our ever-changing global society?
"Education innovation is in full creative flower at Quest to Learn, a New York City public middle and high school. As the Guidance Counselor and Wellness Coordinator, I support the groundbreaking and effective teaching and learning that takes place here, nurturing social and emotional learning (SEL) as well as 21st century skills like inventiveness, risk taking and collaboration.
"Developed in partnership with non-profit design studio Institute of Play, Quest to Learn has used research in game-based learning to create a rigorous and engaging collaborative learning space where students feel safe taking risks and using their successes and failures to create and apply new knowledge. Q2L students succeed academically not just because they are learning from teachers, but because they are learning from each other and, more importantly, taking charge of their own learning.
"Standards and skills give students the tools to be active participants in their own learning. The application of acquired knowledge in a creative space keeps them engaged and empowers them to take ownership of their learning. At Q2L, one of our best creative learning spaces is known as Boss Level."