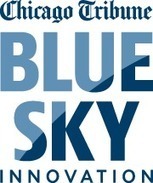 description by Scout Project
"The Chicago Tribune has broken new ground with this ambitious initiative to gather news, analysis, and events related to innovation and entrepreneurship. As the site indicates, "Blue Sky informs, inspires and connects an audience that looks at business…in new ways." Visitors can get started by looking over the short-form news stories on the homepage. Recent pieces have covered the curious barge built by Google, the financial stability of Groupon, and the transformation of event planning via mobile apps. Visitors can look over the event calendar, which brings together information about ongoing activities such as mobile app contests and networking events. The Innovation Hub area is a good place to look around, as it features content gathered from organizations recognized for expertise in the field of innovation. Finally, visitors can sign up to receive updates from Blue Sky via Facebook, Google+, or email"
Jim Lerman's insight:
This initiative is an interesting way for a leading newspaper to try to stay relevant in today's changing news marketplace.