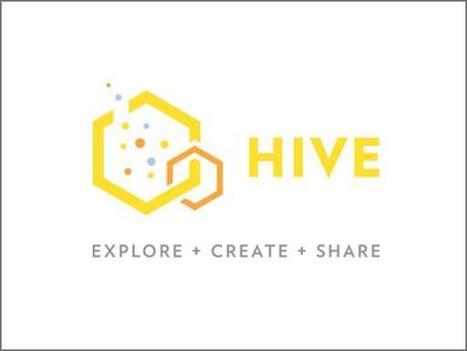 by kate Meersschaert
"Hive NYC Learning Network is a Mozilla project that was founded through The MacArthur Foundation's Digital Media and Learning initiative to fuel collaborations between cultural organizations to create new learning pathways and innovative education practices. Hive NYC is composed of forty non-profit organizations—museums, libraries, after-school clubs and informal learning spaces—that create Connected Learning opportunities for youth. Network members have access to funding to support this work through The Hive Digital Media Learning Fund in The New York Community Trust.(From the Hive Learning NYC Site)
"Hive-like Learning Hubs
Hive Learning Network hosts "city-based learning labs," meetups, mash-ups and all manner of digital learning opportunities to support learning outside of the traditional walls of schools. Mozilla Foundation (Firefox browser) has located "hives" in major cities like Chicago, Boston, and NYC and these hubs partner with innovative organizations within each community to serve as a "connection" for learners, organizations, volunteers, and educators. For example, the mission of the NYC Hive chapter is listed on their site as, "Hive NYC operates as a city-based learning lab, where members network with each other, share best practices and pedagogies, learn about and play with new technologies, participate in events, and most importantly, collaborate to create learning opportunities for NYC youth." Throughout the summer of 2013 alone, the group is helping to support and promote many dozens of camps, workshops and programs throughout NYC for middle and High School-aged youth.
Networked Learning
"Hive Learning Network is especially important as schools face additional budget cuts and teachers must increasingly focus on "teaching to the test" at the cost of more innovative, learner-driven activities. Digital media and technology is often not fully integrated into this more traditional curriculum and is at best an afterthought in traditional education programs. Hive aims to provide the resources to make these technologies less a secondary element and more a "glue and amplifier" for truly connected learning experiences, albeit outside the confines of the classroom."