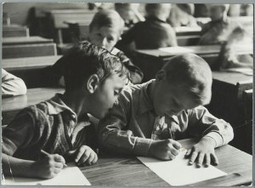 by Maria Popova
"So, in 2012, when I found out that writer Kio Stark was crowdfunding a book that would serve as a manifesto for learning outside formal education, I eagerly chipped in. Now, Don't Go Back to School: A Handbook for Learning Anything is out and is everything I could've wished for when I was in college, an essential piece of cultural literacy, at once tantalizing and practically grounded assurance that success doesn't lie at the end of a single highway but is sprinkled along a thousand alternative paths. Stark describes it as "a radical project, the opposite of reform … not about fixing school [but] about transforming learning — and making traditional school one among many options rather than the only option." Through a series of interviews with independent learners who have reached success and happiness in fields as diverse as journalism, illustration, and molecular biology, Stark — who herself dropped out of a graduate program at Yale, despite being offered a prestigious fellowship — cracks open the secret to defining your own success and finding your purpose outside the factory model of formal education. She notes the patterns that emerge:
"People who forgo school build their own infrastructures. They create and borrow and reinvent the best that formal schooling has to offer, and they leave the worst behind. That buys them the freedom to learn on their own terms."
"From their stories, you'll see that when you step away from the prepackaged structure of traditional education, you'll discover that there are many more ways to learn outside school than within."