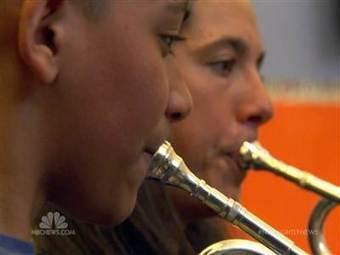 By Katy Tur
"The school was plagued by violence and disorder from the start, and by 2010 it was rank in the bottom five of all public schools in the state of Massachusetts.
"That was when Andrew Bott — the sixth principal in seven years — showed up, and everything started to change.
"We got rid of the security guards," said Bott, who reinvested all the money used for security infrastructure into the arts.
"In a school notorious for its lack of discipline, where backpacks were prohibited for fear the students would use them to carry weapons, Bott's bold decision to replace the security guards with art teachers was met with skepticism by those who also questioned why he would choose to lead the troubled school.
"A lot of my colleagues really questioned the decision," he said. "A lot of people actually would say to me, 'You realize that Orchard Gardens is a career killer? You know, you don't want to go to Orchard Gardens.'"