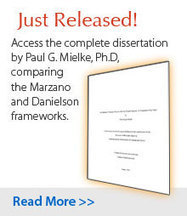 Independent Research by Paul Mielke, Ph.D. Favors the Marzano Teacher Evaluation Model
[A link to the full study is provided on this page]
Quoting from an email dated Nov. 21, 2012 from Learning Sciences International:
"A study on teacher development, published in August, 2012 by Cardinal Stritch University has compared the Marzano Observation Protocol, the foundation of the Marzano Teacher Evaluation Model used in hundreds of school districts across the U.S., with the Danielson Framework for Teaching. The comparative case study, a dissertation by Paul George Mielke, took a qualitative approach, dividing teachers into two cohorts, one using the Marzano Protocol and the other the Danielson Framework, to determine the benefits of research-based teaching frameworks for teachers. The results indicate that:
"Using a comprehensive teaching framework had multiple benefits for teachersTeachers improved their ability to become self-directedGreater specificity of the Marzano comprehensive teaching framework more positively impacted the ability of teachers to monitor and modify their teachingA limited focus on improving specific behaviors positively impacted teachersA structured process for obtaining feedback, reflecting, and peer sharing positively impacted teacher growth
"The study, Investigating a Systematic Process to Develop Teacher Expertise: A Comparative Case Study, has wide application for the future of teacher evaluation. The research demonstrates that schools do well to utilize comprehensive teaching frameworks to drive teacher development and student achievement. The study also recommended that schools consider a supervision process that empowers teachers to develop expertise through self-video analysis, peer observation, and structured reflection. Further, schools should provide teachers with the structure, framework, and tools to become self-directed. And finally, the research indicates that the concept of deliberate practice should be a central component to improve teaching."