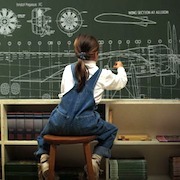 By Jennifer Carey
"I recently had the privilege of attending the first iPad Summit hosted by Ed Tech Teacherat Harvard Medical School. The conference brought together over 500 educators and experts from around the globe to consider one digital tool — the Apple iPad. The conference was one of the most innovative and exhilarating experiences I have had as an educator.
"This conference was unique: It didn't focus on pedagogy or broad tools or philosophy. Instead, participants gave all their attention to a single piece of technology and how it might be applied in the realm of education. Speakers came from a broad array of backgrounds and experiences: school administrators, educators from shared platform classrooms, educators from 1:1 programs, technology coordinators, educational consultants, and educational researchers. They shared their experiences, successes and failures, and visions for the future.
"The keynote speaker was Tony Wagner, Ph.D., Harvard professor and author of Creating Innovators: The Making of Young People Who Will Change The World. (The photo above is from the book cover.)
"Wagner highlighted the themes of the conference: we must change the framework of education to reflect what our students need in the world today. Tools like the iPad allow educators and students to be creative, flexible, and innovative in ways never before seen. The same-old-same-old approach in education has only been driving the failure of the American educational system. If we want different results, we need to do something different."
Good links here to additional information on what looks to have been an excellent conference. -JL