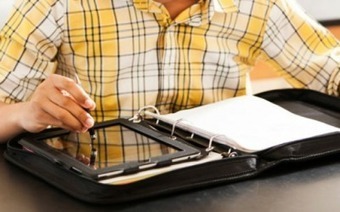 By Beth Holland & Shawn McCusker
"Since we, as adults, did not model appropriate usage for our children and students, they don't know how to react to these new communication styles, struggling to determine when they should use them and when they should not.This state of "anomie" or normlessness can be frustrating at the very least. This was true with the invention of cars, phones, Walkmen, iPods and is no less true for devices in the classroom.
"Just think about how hard theaters have worked to educate people about cell phone use during movies and plays. Consider the efforts currently being made to prevent texting and driving. Society is working hard to create norms in light of the rapid evolution of new technologies.
"As teachers, we will need to focus on helping students to learn the norms that relate to having devices in class as well as the appropriate context in which to use – or not use – them. We will need to help the students master the social implications of using these tools appropriately in order to make sure that they add to, rather than distract from, their learning.
HOW IT LOOKS IN THE CLASSROOM
"Given the challenges of piloting programs, integrating technology, and addressing 21st Century Skills, how do we also teach these complex communication strategies? What does this look like in the classroom?"
Three excellent examples of how Tweeting, blogging, and Facebook are used constructively by teachers in real classrooms. -JL