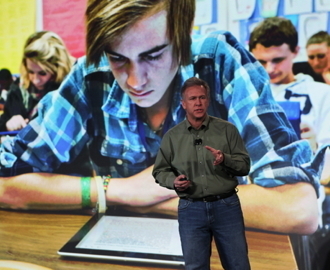 by Joel Klein
"There will always be a need for government to regulate capitalism's excesses and protect the public interest—a role to which I'm deeply committed, having prosecuted several major antitrust cases when I served in the Department of Justice in the 1990s. But to argue that the profit motive somehow disqualifies business from making vast social contributions is more than merely a fallacy. It's to miss the basic economic lesson of the past two centuries—when innovations spawned by the entrepreneurial talent and capital of the private sector have been harnessed for public purposes to become the greatest force for human betterment in the history of the world. "Doing well by doing good" is a cliché for a reason.
"
In education, of course, private firms have always been integral to the daily life of schools. Pencils, paper, blackboards, books, desks, and schools themselves have been built and sold by for-profit companies since the 19th century. Food, janitorial, transportation, and training services have been more recent additions, along with software and computer products as the close of the 20th century.
"Thoughtful observers have always understood that when public authorities contract with private firms and oversee their provision of certain products and services, that's a very different thing from "privatization." This only stands to reason, since apart from salaries and benefits for teachers, principals, and other school personnel, virtually every dollar spent on K-12 flows through private firms today."