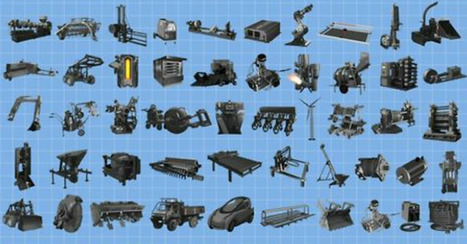 On July 1, 2012, I chanced to learn about For Humankind, "a weekend-long science, technology, and design pop-up expo that spotlight[ed] new technological and design innovations that support the human experience." It was co-presented by Bing and Big Think in lower Manhattan.
I was fortunate to meet Aaron Makaruk at the event that day; he was representing the organization Open Source Ecology -- developers of the Global Village Construction Set (GVCS).
Simply put, GVCS "is a modular, DIY, low-cost, high-performance platform that allows for the easy fabrication of the 50 different Industrial Machines that it takes to build a small, sustainable civilization with modern comforts."
Aaron spent about 40 minutes with me demonstrating the mission and work of the GVCS project, led by Marcin Jakubowski. I was dazzled by the brilliance of its conceptualization and the work the team was doing to develop prototypes of the 50 machines. To me, this is a truly wonderful project, and I'm very grateful to Aaron for sharing so much of his valuable time and energy.
If you are at all curious, view the brief TED Talk by Jakubowski here: http://vimeo.com/30171620