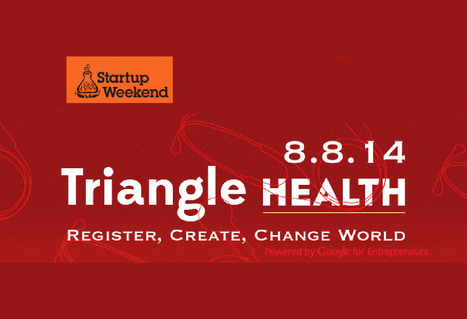 Inspiring Startups Friday Night
"Your job is to inspire everyone," Todd Mosier one of Triangle Startup Weekend''s creators explained a week ago. That got me thinking about what inspires me and I came up with a few ideas:

* RISK - Someone willing to walk the wire like Man On A Wire Philippe Petit who strolled between the World Trade Centers. Inspiration goes up with the STAKES.

* REWARD - Not the "reward" itself but the story of how reward was achieved is inspiring.

* LOSS - There is never a free lunch, so LOSS and our human bullheaded stubbornness to keep getting up is inspiring.
- Handicaps & Odds & Humor - I think of HOH as a subset of "loss" or perceived loss. My cancer made be better and stronger, but most perceive having cancer as a loss or as a negative.

In David & Goliath Malcolm Gladwell notes how many high achievers are dyslexic. When a dyslexic reads or a cancer survivor rides a bicycle across America we believe in our ability to be successful too.
Humor is important in all of these ideas but especially in handicaps and against long odds because LAUGHTER on the other side of the Rubicon, over where it is safe and the experience exists in the retelling, signals our triumph over pain.

* LOVE - Knowing love exists inspires our ability to love and be empathetic.

The problem is NO ONE expects the Spanish Inquisition. We miserably don't know what we don't know. Do I think our Startup Factory Funded startup Curagami is in the middle of an ecommerce revolution? Yes, but we can't KNOW for sure. When an inspiring thing is happening you often are blind to its inspiration.

Tomorrow night I will share experiences from starting 4 companies, riding a bicycle across America after being diagnosed with leukemia, the creation of our latest "movements" (TechCuresCancer & Curagami) and my intention, desire and WILL to never, ever give up.

Hope you will be able to join us in downtown Durham Friday night. Should be inspiring :). M

PS. What inspires you?