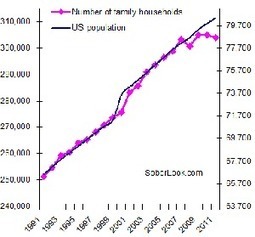 Roartybomb poster Mike Konczal looks at divorce rates and birth rates in each state, which reveals that higher unemployement rates by state tie directly to lower divorce rates and lower birth rates.
New people (birth rate) and divorce drive new household formations. Konczal's conclusion is that the pent-up demand for housing, both rental and for-sale, may not materialize unless people can pay for divorce and babies.
Family household growth has completely decoupled from the US population growth since 2008, creating the pent-up demand.