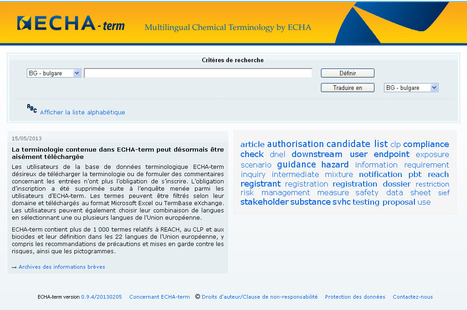 ECHA-term terminology database
ECHA is the driving force among regulatory authorities in implementing the EU's groundbreaking chemicals legislation for the benefit of human health and the environment as well as for innovation and competitiveness. ECHA helps companies to comply with the legislation, advances the safe use of chemicals, provides information on chemicals and addresses chemicals of concern.
The ECHA-term terminology database was conceived as a dynamic database to be updated constantly by experts in the field and linguists. Feedback from users will also be taken into account as an additional validation mechanism.
ECHA-term contains terminology from:
REACH RegulationCLP Regulation (terms, hazard and precautionary statements)ECHA Guidance documents (terms and descriptors)GHS hazard pictogramsSubstances of Very High ConcernBiocidal Products Regulation
Via
Mary Theodosiadou