Scoop.it!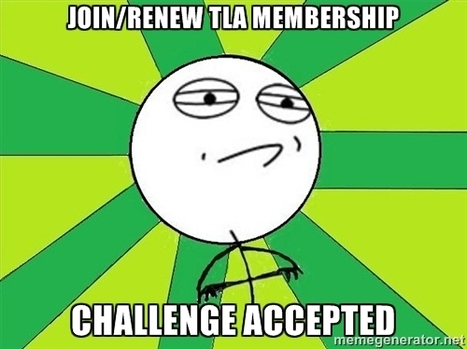 Tennessee Library Association's insight:
just a few reasons a TLA membership is an important investment:

*Advocacy – to communicate libraries' value to the community, to stimulate improvements, and to influence public policy and funding;
*Awards – to recognize excellence in the profession. Internships are available for library school interns to work and attend the annual TLA Conference; Members are eligible to apply for the Edwin S. Gleaves Scholarship to defray costs in attending Library school;
*Communication –learn and network through TLA online publications, the TLA-L listserv, and TLA's presence on social networking sites like LinkedIn, Facebook and Twitter;
*Continuing education opportunities – FREE access to TLA sponsored webinars, which occur roughly once a month on a variety of topics
*Discounted Rate for TLA Annual Conference – Members enjoy a discounted registration rate for annual conference set for April 30-May 1, 2014 in Murfreesboro. Institutional Members are eligible to send two non-TLA members to conference at the member rate.
*Professional development opportunities – Opportunities are available to publish research in Tennessee Libraries and lead presentations at TLA annual conferences;
*Employment assistance – Employment opportunities are available through the TLA Website listing online Jobs – both for jobseekers and employers;
*Discount membership or combined memberships – There are two discount rates for TLA Membership: 1) STUDENTS: enjoy membership in both TLA and ALA for one low price of $35! 2) Combined TASL/TLA: Deduct the $30 TASL dues from your TLA dues for double membership.
*Group affiliations – TLA members are entitled to free membership in one section and one roundtable.